Yes, the new Confederacy has returned with Donald Trump leading the charge. Its not just the southern states this time. In 1850 much of the west was unincorporated territories. As rural states they appear to be on the Trump wagon and his particular brand of stoking xenophobic fears amongst white conservatives. Many pundits and countries (even China) have begun making comparisons to his rhetoric as fascist. Even Trump himself has invoked Benito Mussolini.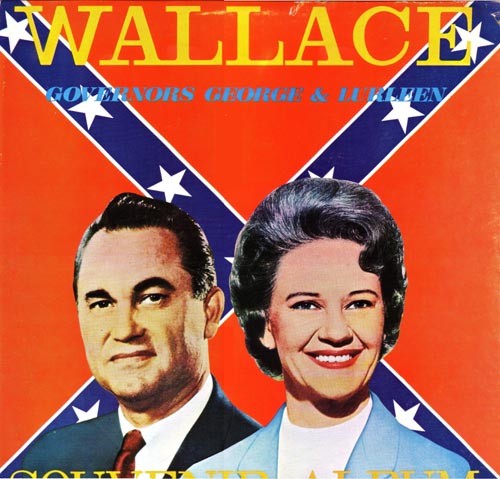 History is replete with examples like Trump that do not speak to our better angels. Huey Long, Strom Thurmond, Joe McCarthy, Barry Goldwater, George C. Wallace. Trump is almost an amalgam of all of these examples, particularly Wallace. I am acutely aware of Wallace's stranglehold on southern state politics having grown up there during his tenure. Wallace held power in Alabama for four terms (five if you count the proxy term served by his wife Lurleen). Wallace didn't even start out as a segregationist and was actually endorsed by the NAACP. It was only after losing his first bid for office that he figured out the concerns of his constituency and adopted the segregationist stance. When asked why he replied, "You know, I tried to talk about good roads and good schools and all these things that have been part of my career, and nobody listened. And then I began talking about niggers, and they stomped the floor." (from the PBS documentary 'Settin' the Woods on Fire').
Now we have Trump rallies with his supporters stomping the floor over Mexicans and Muslims and Trump, like Wallace, using inflammatory rhetoric to whip his disenfranchised constituents into a frothing frenzy of furor.
And this coincides with the rapidly imploding Republican party establishment. No one ever thought Trump would get this far yet Republicans are scrambling to get out the vote for a candidate they previously reviled, Ted Cruz, just to stop Trump. It's a tragic irony for the Grand Old Party to be left with no clear acceptable choice except to vote for the guy who sucks the least.
Yes, the south has risen again. And just like the first time around it needs to be soundly put down again.